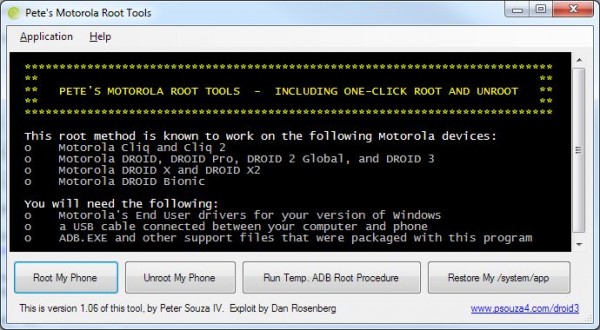 We have had the manual instructions on rooting the Motorola Atrix 4G build 4.5.91 running Gingerbread 2.3.4 for a while now. This being said there is a one click method that is available and been tested to root the device much easier. The method was created for other devices but we have personally used it on the Atrix 4G and its flawless.
Root Instructions for the Motorola Atrix 4G on Gingerbread:
Put your Atrix in USB Debugging Mode (Settings -> Application -> Development)
Connect your Atrix to your PC via USB
Download and unzip Pete's Motorola Root Tools (Download Link)
Run the Executable and click "Root My Phone"
Be patient as it takes a few minutes
Congrats your Atrix 4G is Rooted
Ignore the fact that the Motorola Atrix 4G is not listed as a device within the program that it roots. We have rooted multiple Atric 4G's using this tool and never had an issue. Also many of the Atric 4G's that we have rooted with this method are running with unlocked bootloaders and CM7.