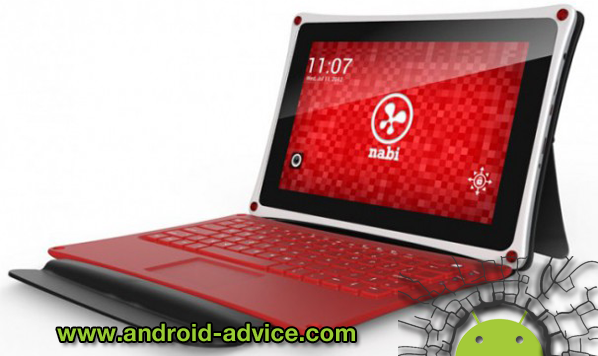 Fuhu, Inc. has come to realize that the younger generation is a relatively untapped opportunity for Android devices, there are iPads and Nexus devices for adults and many kid tablets but what about the teenagers and pre-teens? They have announced their fully customizable Nabi XD tablet that runs Android Jelly Bean.
This tablet is not the weaker kids tablet like many on the market right now but sports a quad-core Tegra 3 chip and a nice 10.1 inch IPS HD display. On top of this it has its own custom user interface called Kanzi UI that is simply a tiled grid of dynamically updating widgets or apps. Users of the Nabi XD can define time and location based rules to determine what the tablet will allow in that location or at that time. For instance Facebook and other social apps may be blocked when the user is supposed to be doing chores or homework with others like internet and research apps fully functional.
Official Press Release by Fuhu, Inc. about the Nabi XD:
Fuhu, Inc. Unveils nabi XD: The World's First Android Ultraportable for Tweens at $249
Fuhu, Inc. defines a new market for tablet users with its nabi XD, positioned as a tween's first tablet with a keyboard dedicated to homework, gaming, social networking and kid-safe browsing

EL SEGUNDO, Calif., Dec. 12, 2012 – Fuhu, Inc., the leader in tablets made just for kids, today unveiled the new nabi™ XD: an ultraportable tablet that combines the best of a notebook and tablet PC with an amazing 10.1-inch high-definition in-plane-switching (IPS), five-point capacitive touch screen. Positioned to be your tweens' first portable computer, nabi XD features an NVIDIA Tegra 3 4-PLUS-1™ quad-core processor, Android™ 4.1 Jelly Bean, front and back cameras, near field communications (NFC) technology, 10-hours of battery life and the 10.1-inch screen – all for only $249. The nabi XD is a first of its kind, an Android ultraportable tablet with productivity apps, incredible console quality gaming, modified parental controls for browsing and a dynamic and intelligent gadget-based user interface
that adapts based on the time of day and location.

Featuring the NVIDIA Tegra 3 4-PLUS-1 quad-core processor
nabi XD features a beautiful 10.1-inch IPS 1366×768 HD capacitive touch screen running the Android 4.1 Jelly Bean operating system. The NVIDIA Tegra 3 processor with a 5th battery saver core helps extend battery life so that nabi XD can go up to 10 hours between charges. nabi XD introduces an affordable yet incredibly powerful, ultraportable hybrid tablet and notebook solution with pad-folio and integrated silicone keyboard cover nabi XD features a sleek aluminum body that mirrors nabi's trademarked flared corner design built for a long a productive life. Fuhu designers and engineers spent countless hours ensuring that each nabi is built with unmatched precision — meticulously thinking through every little detail. The result is a beautiful, thin, light, polished and refined look that feels incredibly strong and durable. Combined with its patent-pending optional pad-folio and integrated silicone keyboard cover that provides a traditional typing feel, nabi XD is your tweens' ultimate first tablet PC.

"Smart" 3-D User Interface
In partnership with Rightware®'s Kanzi® user interface solution (UI), nabi XD is taking UIs to the next level. A tiled grid of dynamically updating gadgets, widgets and apps headlines the new UI. Pin as many gadgets as you like and move them around just the way you want. Define time and location based rules that dictate when and where your favorite gadgets show up. Want news in the morning and games in the evening? Create a rule for that! nabi XD's UI lets you create multiple home screens each with your own layout of widgets, gadgets and apps. nabi XD's home screen gadgets are designed to give you the most relevant information that you want, when you want it. Set rules for your home screens based on GPS locations, Wi-Fi networks and time, allowing you to define which home screen is the most relevant for any situation.

Incredible Gaming Experiences
nabi XD will be the first of the nabi family of tablets to feature NFC technologies. NFC allows you to sync devices simply by touching them together – Great for Bluetooth syncing or sync nabi's exclusive family of 16 figurines with your nabi XD and challenge them to amazing battles while leveling up your unique character. Watch out for the Battle KINABIs™ game and figurines made for nabi XD! "nabi XD features the most powerful specifications and brilliant display of the nabi tablet family. We are excited about what these new features bring to gaming and content," said Fuhu's CEO Jim Mitchell. "nabi XD represents a real transition in personal portable computing with an introduction of an Android-based productivity and gaming device."

Pricing and Availability
The 10.1-inch nabi XD will be available late December in limited release and mid-January nationwide. The 16 GB model will be priced MSRP $249 and 32 GB for MSRP $349. Pad-folio and numerous other accessories will be available mid-January ranging from MSRP$19.99 and MSRP$89.99.
The Nabi XD is going to have a price tag of $249 and $349 for a 16GB and 32GB version respectively. Fuhu, Inc. will be releasing the tablet the end of this month in a few locations with its International release expected in January.