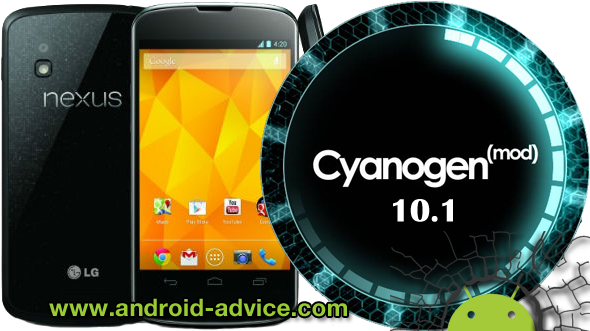 Google's new Nexus 4 now has a nightly build available for CyanogenMod 10.1. Here at Android Advice, we love CyanogenMod and it is easily the most popular custom ROM for Android devices at this time. CyanogenMod is lightweight and incredibly fast in comparison to other ROM's with unparalleled support. If you are looking to customize your Google Nexus 4 then CM 10.1 is the perfect solution.
NOTE: To install CyanogenMod 10.1 on your Nexus 4 you will need to have the bootloader unlocked and the device rooted. Root Instructions: How to Root the Nexus 4
There are two things to keep in mind when choosing to flash CyanogenMod 10.1 to your brand new Nexus 4. First is that the Nexus 4 is already a pure Google Android experience meaning that the speed increase will be minuscule to say the least. Second is the fact that the current version of CM 10.1 is a nightly build and not a stable release (yet) so speed is not a priority and there may be a few minor bugs and hardware issues.
Features CyanogenMod 10.1 will Add to your Nexus 4:
Trebuchet Launcher
Profiles
Performance Tweaks
Custom Themes
Customization options for notification LED's