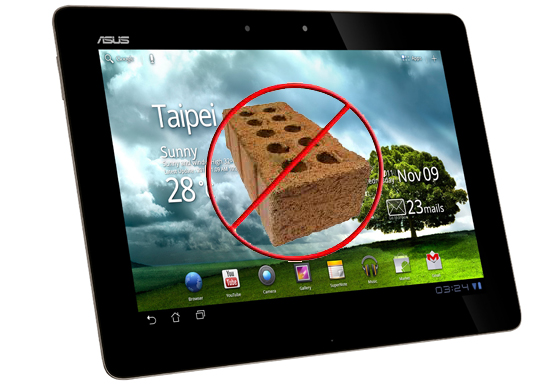 If you have soft bricked your Asus Transformer Prime there is good news thanks to XDA member "MasterZen88". He has a fix for your bricked Tegra 3 Android tablet that will let you stop stressing the issue of an expensive paper weight. The tool he has created is called WSG UnBricker and is a helpful tool to unbrick and recover your Asus Transformer Prime from its unusable state.
WSG UnBricker is a Windows based batch file that allows you to easily unblock without much knowledge of the Android OS itself. Only use this if your Transformer Prime is bricked and you have no other options.
This is a Full Fastboot based solution that should allow you to flash any partition…
How to Fix your Bricked Asus Transformer Prime:
Download and extract WSG Unbricker (Download Link)
Keep the file structure of the unzipped files or it will not work
First and most important read the included readme before starting
Run WSGFlasher.bat by double clicking it
Select the action you want to do and sit back
Congrats your Asus Transformer Prime is now UnBricked!
Take your time as your soft brick could become a hard brick if you don't take the time to understand what your doing. We are in no way responsible for the use of this utility although will help as best we can with any questions you have.