We have all been waiting patiently for the Android 4.4 KitKat rollout which is the latest version of the OS rolling out with the Nexus 5. Forget about iOS7 because KitKat as seen below will blow it out of the water. If you have already managed to get your hands on the Google Nexus 5 you've at least had a chance to play a little with KitKat.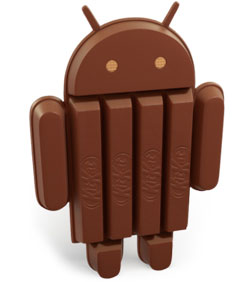 Smarter Location settings to Save Battery
With so many applications asking for your location when completing actions your GPS is getting pinged all the time. We all know that GPS drains then battery quite a bit and Google has worked on a feature called "Battery Saving GPS Mode" as a workaround for this. Basically what Battery saving mode does is minimize the reference points to find you location which in turn reduces battery drain. You can enable the feature easily via "Settings -> Location -> Mode" and from their enable Battery Saving. You can of course from here give your GPS a bit of steroids by setting the mode to High Accuracy but don't look to save any battery that way.
Hidden Android KitKat Animation
While hidden away in the settings this is not a new easter egg as older versions have this as well but worth mentioning for those new to the OS. You can view an animation of the Android 4.4 KitKat logo which also allows you to spin it but thats about all you get from this. If nothing else its away to showoff since unless you have a Nexus 5 you may not see this for some time. Get to the logo via "Settings -> About Phone" then triple tap the Android version. To get out of this just tap the home button and continue with your day.
Advanced Photo Editor
Google has added an advanced photo editor suite for both smartphones and tablets with its update to KitKat. The best and most important feature of the new photo editing suite for Android is the fact that after edited you can always revert back to the original image without losing it. Some other features of the photo editor is the ability to apply pre-defined looks, alter geometry, and apply filters. No need to download as the editor will be included with the Android OS.
Better Visual UI Features
Games and applications can now use the entire screen without showing the notification bar and the UI stays hidden when interacting with the device. You can however reveal the notification bar by swiping down from the top or up from the bottom of the device so you don't have to leave the application or game to see notifications or menu's.
Much Better Performance
One of the most beneficial features of the new OS is its ability to run on almost any mid to high end Android device manufactured in the last few years. KitKat in theory can work on just about any device due to its requirement of only 512MB of RAM. The OS streamlines all of the major components to reduce memory usage and battery drain alike. Some of the features that reduce memory use are Dalvik JIT code cache tuning, kernel same page merging (KSM) and swap to zRAM. There are also new API's to help developers create much more memory efficient applications.
Cloud Printing
Google has opened up an API to developers to allow Google Cloud Printing from Android 4.4 KitKat devices. What this means is that we will likely see many of the big name applications allowing you to print your documents and images via this service. Since there is native platform support for printing it is much easier to support the printing feature including an actual print manager. The print manager give you control over printing with shared services and a system user interface for printing.
Screen Recording now Native
With screen capture being a highly requested feature since many devices until recently were hit or miss KitKat takes it further with the ability to record your screen. Finally you can easily record your actions from the device and it will be stored locally as an mp4 file. The screen recorder will save the video at the same resolution and quality of the device being used meaning you can actually get high quality recordings easily. The screen recorder will also save the video in the orientation that you have it when recording. Personally I have to mention that this is one of my favorite features of the new OS speed and all else aside.
Built In IR Blaster support
While the only devices worth having currently with an IR blaster are Samsung the support for them has been less than desirable. Developers will now have access to API's to control the IR blaster hopefully creating more applications to choose from. This will also allow many more features of the IR blasters other than just changing channels.
Android KitKat 4.4.1 Update Already in Development
Thanks to an XDA member there is evidence that Google is already working on an update to KitKat. The only feature that we see being repaired is the translucent menu due to its incompatibility with the Nexus 10. The report has been further confirmed by a tech blog by the name of MYCE seeing the build version KOT31B in Google's Chromium issue tracker.
"The issue was first marked with the Google-Restrict-View label which makes it only readable to Google employees but the label was later removed," MYCE reports, "The build is only a week old and could be the sign we'll see a 4.4.1 version."
Conclusion
With the enhanced performance and multitude of features Android 4.4 KitKat proves to be the best version of the OS with much better support than its predecessors. We could see KitKat coming to devices that may have only seen support for ICS at best to date. These updates may not come in the form of an official update but will prove to be a widely accepted version of the OS. Once we have our Nexus 5 which should be any day now we will try to demo some of these features and add a video here. Please let us know via the comments below what you think of the new OS and the features you will love to get your hands on.