Samsung's Galaxy Note 2 is one of the more popular Android phones due to its large screen and Samsung's easy to use interface. This being said there are so many different accessories to choose from how do you pick the right one? One of the first things we purchase for our new phones is a case to protect our investment. Here we will review one of our favorite cases for the Galaxy Note 2, the FlexiShield Skin from MobileFun.com.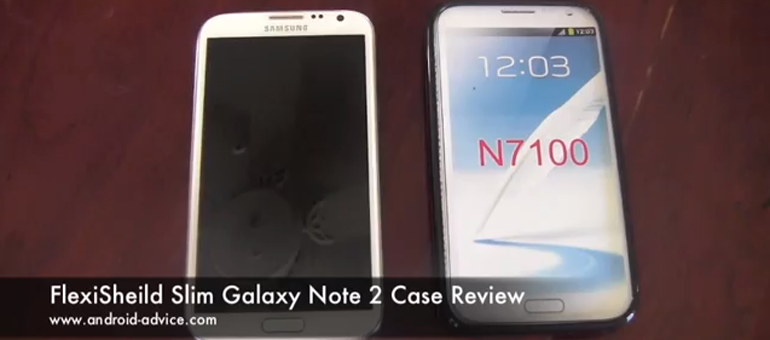 Design of the FlexiShield Skin Case for the Note 2:
Its called a skin and rightfully so as you can barely tell its on the device since it fits snug with a thin design. Not only is it ultra-thin but its also a strong gel material that protects and gives a bit to take some of the impact if dropped. With its precision design it fits tightly on the Note 2 and easily taken off with a little effort (it won't fall out I promise). The cutouts for the speaker, microUSB, mic, headphone jack, stylus, etc. are all perfectly placed with a soft bevel to avoid rough edges. Also even though we reviewed the black case you can get it in white or transparent in the event you want the device to look like there is no case at all. You will notice that the power button and volume rocker aren't cutouts but raised mimicked buttons. This feature allows those areas to be covered but still are easily pressed.
Protection of the FlexiShield Skin Note 2 Case:
Of course you wouldn't buy a case unless it gives your phone the protection that its meant to give. The FlexiShield Skin is made of a flexible but solid gel that can handle a good bit of impact and absorb it. This gel also has the rubber feel that creates much less risk of dropping your phone in the first place as opposed to the slick shell of the Galaxy Note 2 itself. Like other gel cases this also has the raised beveled edge around the screen so you can place the phone face down without risking scratched screen and nicks. This bevel comes up and around the screen securely so that it seals the edges to reduce risks of dust getting in and around the screen as well.
Overall the design of the case is modern and smooth and doesn't booger up the nice design of the phone and the protection is still there as expected from a case. After our video we actually did drop the Note 2 and it bounced twice without any issues. The drop was not on video because it was not intentional but just wanted to emphasize the integrity of the cases protection. In a world where thinner is better the FlexiShield cases are something everyone should at least consider.
Where can you find this case? Galaxy Note 2 Cases