Google's newest operating system Android 5.0 Lollipop is finally here and with it comes a quite a few changes with its overhauled material design. Many of the features you have been used to are now accessed differently than before. Some features have just moved while some have been completely reworked.
One of the features that have changed is "Quick Settings" which is the feature that allows you to quickly enable or disable commonly used features like Bluetooth, wifi and screen brightness. Quick settings allows you to make these changes without having to dive all the way into the settings app each time you need to make a change.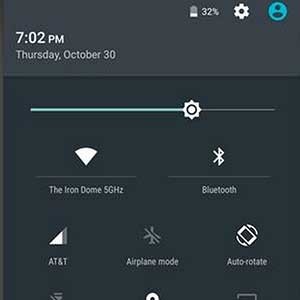 Before Android 5.0 Lollipop you could access these settings by swiping down on the notification bar and tapping a settings icon in the top right. You could also access these same settings by swiping the notification bar down using two fingers. This two finger method of accessing the Quick Settings is still present in Lollipop although the settings icon in the first method has been replaced with the User Accounts icon for changing users (a new feature in Lollipop for multi-users).
How to access the Quick Settings in Lollipop?
As mentioned the two finger method does still work although there is a different way to access them as well with the removal of the settings icon. Swipe down on the notification bar with one finger and then repeat swiping again with a single finger and the quick settings will slide down over the notification shade.
Another thing you will notice when viewing the quick settings is there is now a battery percentage icon shown beside the settings icon at the top of the screen. You can tap the battery icon to see your battery stats easily instead of having to go through settings as you have in the past.