With Google's newest Operating system "Android 5.0 Lollipop" they have added a features called "User Accounts". This adds multi-user support to devices that have the update allowing a true account setup on you tablet or smartphone. This feature was available on tablets as of Android 4.2 although not as robust as it is now and while adding the feature to phones as well with Lollipop we have to say odds are your phone may not need it as badly as a tablet.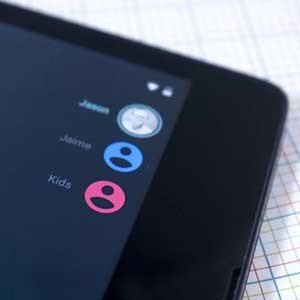 Google has integrated three different types of user accounts within the User Accounts setting being Guest accounts, Profiles, and User accounts. This works much like your average computer allowing different security and access levels. The different user account types are as follows:
Guest Account – works much like Google Chromes incognito mode in the way that all information and data transmitted is temporary. Every time someone enters into guest mode you can start fresh or continue the previous guest session. This will allow you to let friend, kids and really any random person use the tablet without interfering with any of your settings or cluttering up the device.
Profile Account – works much like kids mode on other devices allowing you to give limited access to apps and services. This will come in most handy when you have children that want to use the tablet or phone but don't want them to have full access to everything. When you setup a profile account you have the ability to enable and disable apps and services as much as you want.
User Account – this is the admin user level account allowing all access. You will have full access to all apps and services on the device. Users can download and install apps, arrange home screens, set wallpapers, etc. These settings will be specific to that users account although any changes to Wi-fi or any other system settings will be applied to all accounts on the device.
How to access Multi-User Settings
There are two different ways to access multi-user settings (user accounts). The first way is launching your settings and selecting users from the list of options available. The other way is to open your quick settings and selecting the user icon. You can also quickly switch between accounts from the quick settings as well as from the lock screen.
With different account types you can share your Android device with just about anyone without any risk or worry. Of course you have to have Android 5.0 Lollipop. This said go ahead and share your device with friends, family and even young kids. As soon as we have our Nexus 9 (day or two) we will be adding a video to this article running throughout he user accounts settings and embed it here.