Since Google has released their new Nexus Player they want to make it easy for developers to migrate their apps to the Android TV platforms. We have seen Google release units before with no luck when it comes to app compatibility from developers although now they have broken down the process to make it easy. The standards and compatibility for apps to be approved have been laid out below.
Understand Guidelines and Requirements
There has been a list of TV quality guidelines for app developers to easily understand the criteria for releasing their apps on the Android TV platform. Google only allows those that meet the guidelines to be available to the general public through the play store.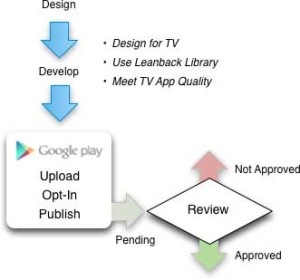 Develop a Great App for TV
Making your app take advantage of the Android TV input capabilities such as the gamepad and controller as well as larger screens is a must. Usage of the leanback library included in the Android SDK allows you to optimize your app for the TV. They also recommend that you use the same package name and store listing as your mobile versions of the app to keep the downloads, ratings and other statistics in tact.
Test your App for TV Quality
Performing smoothly and looking great on the large screen is a must as well as user experience consideration. Pay attention to the new material design and be sure to incorporate it as often as possible within the new version of the app while striving for simplicity and usability.
Opt-in to Android TV and Publish the App
Once you have thoroughly tested your app and make sure you meet all of the quality guidelines you can upload it to the Play Store via the Developer Console. Be sure that you Opt-in to Android TV from the Pricing and Distribution section of the Developer Console as well before publishing. There are however two requirements to opt-in and they are declaring that your app does not require a touchscreen and within your App Manifest you have to include the intent type of Action Main with CATEGORY_LEANBACK_LAUNCHER.
Last Track your Review and Approval
If everything meets the criteria for Android TV great it will be available on Google Play. If for some reason you don't meet the criteria then you will get a notification email detailing the areas that need to be addressed before re-uploading to the developer console.
For many this may still seem like a complicated process but when it all comes down to it you can pick it all up rather quickly. If you have any issues with the process or need more details along the way refer to the source link of this article for the full details of developing for Android TV.