Those lucky enough to live in Austin Texas can now get Google Fiber in their neighborhoods right now. Google has been marketing hard to Austin in the form of a video that explains why Google Fiber is in their best interest and the benefits of having it. Google Fiber is their 1Gbps internet service that blows any other service in the area out of the water.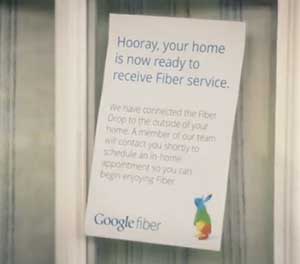 The video shows a lot although some of the key points are a teacher in a classroom showing her class high resolution 3D images of Mars, a musician playing a guitar with a friend via a live internet video connection and a grandmother video chatting with her grandchildren. See the video up next:
While you can do all of these things with a normal broadband connection just fine imagine how much smoother it is with a 1Gbps connection via Google Fiber. This will allow much more data to cross the lines much quicker. This means almost to no lag or drops as well as the best possible quality for video and communication processing.
Currently Google Fiber is only available in Kansas City, Austin and Provo although talks and actions have been taken to start branching out to other major markets. Some of the other cities that can expect Google Fiber before long is Atlanta, Charlotte, Nashville, Phoenix, Portland, Raleigh-Durham, San Antonio, Salt Lake City, and San Jose. These additional areas that should see Google Fiber soon have submitted their paperwork to Google meeting the deadline requirements. This means they are just waiting for Google to make their move.
In the mean time enjoy Google Fiber all of you Austonians and let us know how you like your new screaming network.