The Google Nexus 9 tablet is a powerhouse no doubt with its clear HD 8.9 inch screen and unparalleled speed its an appealing competitor for the Apple iPad Air 2 and Amazon Fire HDX 8.9. You will get everything you expect from a high end tablet although is it truly the best one you can buy?
The Nexus 9 didn't add all of the flashy features that other tablets try to add to make them stand out but instead focused their energy on using the fastest processors and the latest Android 5.0 OS Lollipop. They skipped adding gimmicks like the fingerprint sensors and 3D cameras that less face it, very few people actually use. Their focus is pure Android at its fastest.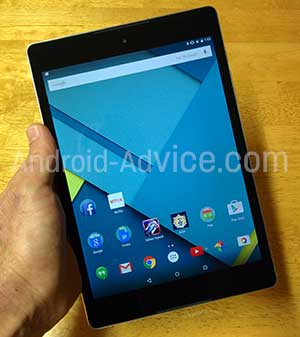 Nexus 9 Design
With Google already having a 7 inch and 10 inch tablet the 8.9 inch Nexus 9 fits in nicely closing the gap between the two. Aesthetically the Nexus 9 looks more like the 7 with its rectangle design and smaller bevel around the screen. The construction is clean, sturdy, and strong. This said we still recommend some sort of case to protect it some.
The Nexus 9 does have a minimalistic design with nothing spectacular added to make it stand out although this seems to be the trend due to consumer responses. Its weight and feel match that of others in its range like the Amazon Fire HDX and Apple iPad Air although its slightly thicker than both.
The tablet is available in several colors ranging from black, white, and gold having a soft back with slightly rounded corners. There is also just enough room around the screen to hold the device without grabbing the screen allowing you to avoid smudges and accidental taps. The Nexus 9 is comfortable to hold although you will need two hands to operate it and will not get by with one unless you have larger hands (I have mall hands). Overall the design while minimal is very impressive.
Nexus 9 Hardware and Performance
With its 64-bit Nvidia Tegra K1 system-on-chip, 2.3GHz dual-core Denver CPU and 192-core Kepler DX1 GPU this is the fastest Android tablet you will find as of today. You will also notice that it is up to date with its 802.11ac Wifi, Bluetooth 4.1 and NFC chips. One down side although expected is the fact that their is no microSD card slot on the Nexus 9, this is to support the fact that Google has cloud based services to store data instead if needed.
Switching between apps and navigating through the tablets screens is flawless and smooth even with many open apps running. You can easily open 10 – 15 apps and not see any decline in speed. This creates a lag free experience on the Nexus 9.
Nexus 9, The good and the bad
The Nexus 9 is the first device to run Android 5.0 Lollipop and promises to get updates quickly as available. The tablet performs in stressful situations easily and functions with a smooth consistent demeanor. However even being one of the best tablets we have had the honor of playing with there are still a lot of bugs with apps on the new OS while developers are trying to update. There is also a few points lost in the fact that their is no SD Card slot allowing a max of 32GB of storage. All this said the Nexus 9 is a premium tablet with great performance and in our opinion is the best Android tablet you can get to date.
Nexus 9 Tablet Price
The Nexus 9 can be purchased directly from Google Play for $399 – $479 for either a 16GB or 32GB Wifi only version respectively. Google has also announced that later this year they will be coming out with a 32GB 4G LTE version for $599. All this said they aren't the cheapest tablet out there but are still competitive in the tablet game.