Bingo Bash is the number one Bingo game currently available on just about every platform you can think of from Android and iOS to Windows and Mac OSX via Facebook. Some of the reasons people are drawn to Bingo Bash is the fact that its not only a multiplayer Bingo game but it also has a lot of other features as well such as experience to level up, achievements in the form of trophies, collections that can be gathered to increase you allotment of bingo chips, coins that can be used on slots or to buy in game items, and many different rooms to play in all with their own features and graphics.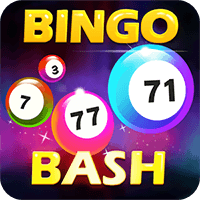 Bingo Bash Basics (How to Play)
If you haven't started playing yet then open Bingo Bash in a new Window
Login to the game and on your first login if on a mobile device you can connect to Facebook.
You will notice Bingo Chips (these are what you will buy Bingo cards with
You will also have coins that you can use to purchase in game items like power plays and play the slots games (only on mobile currently)
Once in the game you select the room you want to play in (at first you will only have Sphinx) these will unlock as you gain levels.
Once you select a room you then have to select the number of cards you want to play using the bingo chips we mentioned earlier.
Then you wait for the current game in progress to end and you will automatically join in the next game.
Once in the game you will play bingo as you normally would with one twist, you can use power play's to help you win faster and gain other items (we will discuss this further later)
Be sure when you have bingo to actually hit the bingo button to call it. This said make sure you actually have bingo else the card will X out and you will lose it for the current game.
What are Bingo Bash Chips and how to Get them?
In Bingo Bash there are chips that you use to purchase bingo cards. You will get more chips every 20 hours as a daily bonus. This daily bonus increases as you gain levels and complete collections (will discuss collections later). There are several other ways to gain bingo chips besides the daily bonus. As you play you will notice that you are constantly collecting gems, these gems can be traded for bingo chips. Another way to gain large amounts of chips is playing the slots, if you gain 12/12 collection items from playing slots you can get a bonus of up to 500 bingo chips as a reward.
Another way to get chips is to follow Bingo Bash on Facebook and occasionally they will make posts giving away free chips, generally once a week or so and normally around 16 free bingo bash chips. Yet another way to get chips is scratch off tickets, and pull tabs. Each of these cost 5 chips to potentially get thousands although you get 1 free scratch ticket each day to try your luck without risking chips. Also if using a tablet or computer to play you can spin a wheel daily to gain chips and other great items. The last way that I know to get bingo chips is gifts from friends.
What are Gems, how to get, and how to use them?
Gems are gained by gifts from friends in much the same way as chips and filling in spots on your bingo cards that have a semi transparent gem on them. These are collected whether you get a Bingo or not and in certain combinations be used to get bingo chips, power plays and gold. If you have a collection orb you can also get collection items with the orb and gems. Below is an outline of what you can buy with gems and the associated combination required.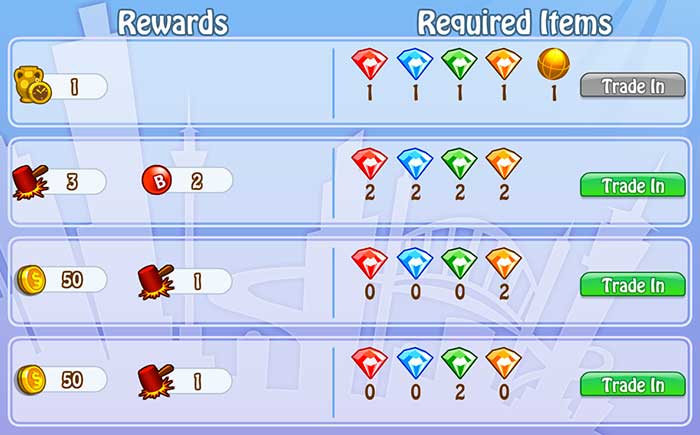 What are Coins, how to get, and how to use them?
Coins are gained like gems in the fact that there will be semi-transparent coins on certain numbers on your bingo cards although there is also the additional way of gaining them by playing slots (will discuss later). Once you have coins you can use them for several different things ranging from buying collection items, buying power plays and playing slots as already mentioned. Below is a breakdown of what you can use coins to purchase and the associated costs if applicable.
Collection items (too many to list)
Charms (too many to list but used to increase generosity)
Daubers (too many to list used to change your stamp from circle to another shape)
3 Powerplays for 750 coins
9 Powerplays for 1500 coins
15 Powerplays for 2500 coins
What are collection items, how to get them and their benefits?


There are what Bingo Bash calls collection items that when you get the entire set, usually 12 items you get either additional Bingo chips each day in your daily bonus or a huge chip payout. Generally the location based rooms i.e. Sphinx and Grand Canyon give a daily bonus increase and others like holiday specific rooms give you chip bonuses. We will not run through all of the collections you can get as there are many but these are things you will want to work for to increase your daily playing. You get collection items by getting bingo on a card that specifies you get one or has a cell on the card with a collection ball on it. You can also ask friends for collection items if they have more than one of what you are looking for.
What are Powerplays, how to get them and their benefits?
Powerplays are used to give you an advantage when playing Bingo and when used are applied to all cards that you have in that game. You can get Powerplays by purchasing them with coins, trading in gems, getting them as gifts, and from spinning the daily wheel and other mini games. Powerplays come in several forms listed below:
Free Cell – This Powerplay automatically daubs 1 or more random cells on each card in play
Gem Cell – This Powerplay adds gems to your card (when you get that number you get the gem)
Money Cell – This Powerplay adds coins to your card (when you get that number you get the coins)
Chip Cell – This Powerplay adds bingo chips to your card (when you get that number you get the bingo chip)
Instant Bingo – This Powerplay adds an instant bingo to your card (when you get that number you get bingo automatically)
Money Bonanza – This Powerplay doubles the payout of any cells daubed with coins on it.
What is VIP and how do I get VIP status?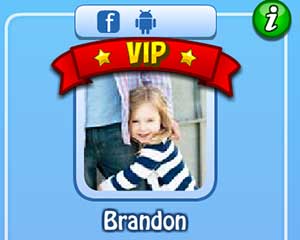 If you playBingo Bash every day and send gifts to your friends you will quickly hit VIP status. There is no need to purchase anything or do anything difficult outside of being sure you login and play. The VIP status looks at a 7 day period to determine your status. There is no exact way of knowing how and when you will get VIP although if you play daily and send friends gifts you will have it within 7 days or so.
What VIP status gives you in Bingo Bash besides the nice little banner over your name that says "* VIP *" is an additional 10% bonus to your daily chips. As you increase your daily bonus by leveling and completing collections you will see how important VIP is to your daily bonus.
What is you Bingo Team and how does it work?
Your Bingo Team is friends that play the game that you have invited to be part of your team via the "My Team" tab when logged in via Facebook. When clicking this tab you will notice a list of friends with their experience and level and to the far right a button to invite them to your team. Invite them all as this is a great way to add more social aspects to Bingo Bash.
Team members will help you complete challenges and win bonus Bingo Chips each day. If you go to your "Play" tab via Facebook at the bottom you will see your team members and to the right of that a screen that tells you what you will gain for creating the team. Initially you need at least 4 friends to accept your team invites and complete a team. Once you have done this you will get a 5 bingo chip reward and be able to directly as them for help. This will also start a jackpot for you and your team members to work for.
Bingo Bash Customer Support
I just want to take a minute and talk about the superior support that the team at Bingo Bash provides.  I have had to contact support twice about lost connections and both times they quickly refunded the bingo chips as well as adding anything that may have been lost from the connection issue in one case getting more than I lost to be sure I was compensated.  Both times they had my account updated within a couple hours of my contact email.
Conclusion
All in all Bingo Bash is a great game and very addicting. I actually play myself almost every day so if you like Bingo this is the game for you. With all of the things to work for it creates not only a fun Bingo experience but long term goals to try and achieve. If you have any questions not covered here feel free to drop a comment below and we will answer to the best of our ability. Also let us know if there is anything that we missed and you would like added to this article as there is much more to the game but we hit on what we thought was most important.