Google Now is a card based dashboard allowing Android users to get a personalized overview of everything they are doing, have done and will be doing based on their activity on their Android device. Things like alerting you when you should leave for an event you have in your calendar based on current traffic or showing parking and restaurants you might like near you. As powerful as Google Now is they are about to make it a lot more useful.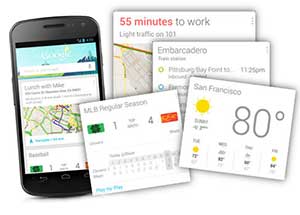 Currently Google Now gets its information from services on your Android phone like Gmail, Chrome, Maps and your calendar. This is great for getting weather reports where you are, directions to places you have in your calendar, estimated arrival times for meetings and events, and even suggested articles and stocks based on your history. It is however restricted to those services that Google can access and while a great personal assistant of sorts can be greatly improved.
At SXSW the Director of Product Management, Aparna Chennapragada announced that they will be opening their API to all Android app developers to allow all of your phone's apps to feed information to Google Now. This would make it an all inclusive personal assistant for all services you choose to show. There are currently 40 apps in their pilot program testing the integrations. A few examples are location based rewards like ticket codes from Fandango and activity and deals from Kayak and Airbnb. As it opens up to the public this could improve Google Now ten fold. Imagine being able to see some of the information within apps on your Google Now screen without ever opening the app itself.
This opens up a much easier experience for users in the way that many apps that you use the most may be able to give you everything you need from your Google Now dashboard removing the need to open the associated apps ever.
Google has given no time frame for releasing the API to developers although they did state that the plan on adding more cards and options to the API over time as they release it. They also mentioned that after developers get the API it could still take a little time to test and work out the bugs before the apps are released. This could easily put everything you want and care about on one screen instead of having to open several apps a day to see it all.