The Poetic Graph Grip Case for the Nexus 9 Tablet is a perfect case for protecting your tablet from drops although there is no screen protection besides the raised bevel of the case itself. The case is solid even though the case doesn't have a hard shell for protection and relies solely on the impact resistant silicone rubber. This case will protect against drops when traveling and give you the peace of mind you need when walking around with it. With all of the cases out there how do you pick the best one for you? Honestly its all about how you will use the case and the amount of protection you think you will need.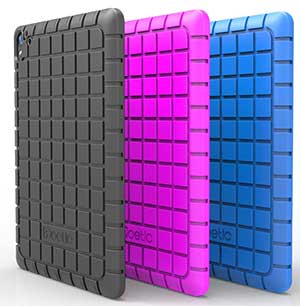 Nexus 9 Poetic Graph Grip Case Design
The design of the Graph Grip case has a nice feel to it with its rigid raised grip. The Graph Grip case also comes in several different colors including black, lavender, and blue. As stated earlier it has a rubberized impact resistant silicone skin that covers the entire back of the tablet with a raised bevel in the front to allow you to place your Nexus 9 face down on surfaces without scratching the screen. There are clean cutouts for all areas you will need to get to i.e. micro USB and headphone jack. The power and volume rocker are covered with raised rubber to easily be able to find and click them. additionally you will notice that all cutouts including the camera are precise. We would like to mention again that the graph style of the case itself makes it very easy to hold and will likely keep you from ever having to test its drop protection.
Nexus 9 Poetic Graph Grip Case Protection
This Nexus 9 case offers moderate protection against drops and scratches without adding a lot of bulk or weight to the Nexus 9. The impact resistant silicone rubber absorbs most if not all of the shock in the event of a drop. This will only allow for a slight vibration to hit the actual tablet itself and will in most cases keep your tablet working like new even after several drops. Without a built in screen protector we recommend a Tempered Glass screen protector to keep the screen as safe as the rest of the tablet. This will protect against scratches and leave your screen looking new forever. Like any other tough case that adds this level of protection it does add a little thickness to the tablet as well as added weight although not near as much as most protective cases.
Conclusion
The Graph Grip Nexus 9 case is a stylish looking and very protective case for the Nexus 9 and allows you to put your tablet through moderately rough situations without risk of damage. It feels like a premium case in your hand and its name does explain it all when it comes to the feel. If you are interested in this case you can find out more at Poetic Cases. The Graph Grip Case by Poetic will cost you $17.95 which we have to admit is quite low for the protection it gives to a new device.