The Turtle Skin case for the Nexus 9 tablet has the best impact protection of any case we have tested for any tablet. This is a larger case made by Poetic and isn't their most stylish case although we can all but guarantee if you have a child using the Nexus 9 this will keep it safe even if dropped numerous times. There is no screen protection on the Turtle Skin case although its corners are so raised that its still protected from every angle. As always choosing a case is based on your needs and therefore this review will be focused more on this as the perfect case for children.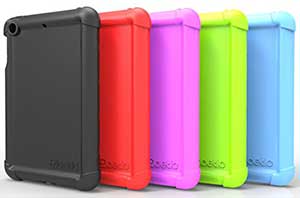 Nexus 9 Poetic Turtle Skin Case Design
The Turtle Skin case design is rather bulky but in doing so Poetic has created a case that can take serious impact. There is a silicone tube all the way around the case that makes it easy to grip with all cutouts precise for the micro USB, headphones and speakers. Even with the protective tube all the way around you can easily press the power and volume rocker without much effort. Both the power button and volume rocker are raised so you can easily find them without looking. The case fits the Nexus 9 very snug and even with the bendable silicone feels solid in your hands. The tube design also allows for great sound channeling that actually improves the Nexus 9 front stereo speakers sound with a slight amplification.
The Turtle Skin case comes in several colors including black, blue, green, purple, and red to match your style. We also have to note that the Turtle Skin case is easily cleaned since you just need to remove it and rinse it off.
Nexus 9 Poetic Turtle Skin Case Protection
This is a highly protective case against drops as the silicone tube surrounding the case is thick and absorbs all of the shock. The case provides protection all the way around with its design as stated earlier allowing it to fall face down, up, diagonally from any normal use height. We still recommend using a tempered glass screen protector in the unlikely event its dropped face down on a raised surface like a rock or something.
Final Thoughts
When putting the Turtle Skin case on my Nexus 9 I can hand it to my daughter without a second thought and she can easily hold it with the large edges. I know it will be safe no matter what even when she is watching a movie on a bunk bed. This said I personally would not carry the tablet around in this case out and about because it is not as stylish as some of the other Poetic cases. I wasn't willing to do drop tests because the Nexus 9 is a rather expensive tablet although I mentioned the bunk bed because it did take a dive and survived without a scratch.
You can get the Poetic Turtle Skin case for $22.95 at Amazon but you can also find out more at Poetic Cases official Nexus 9 Turtle Skin Case page.